Our tools were designed specifically for the Nuclear Power Industry. Their size, shape and form are made to suit the nuclear worker and to provide simple and fast operation with their safety in mind. We have provided B.W.R. Plants with our complete state-of-the-art tool kit to disassemble/assemble CRD's effectively within a low dose frame, thereby reducing a 30 minute maintenance task under high radiation to 7 minutes.
Our tools are made with non-corrosive materials. The materials commonly used are 300 and 400 series stainless steels, bronzes, anodized and hardcoat anodized aircraft aluminum, delrins and nylons.

Set of 4 Precision Sure Grip Wrenches includes: (1) Super Grip Wrench used for detorquing and tightening index tube (color coded red), (1) Anodized Super Grip Wrench used for detorquing and tightening drive piston tube (color coded blue), (1) Ultra Grip Wrench designed for quick ratcheting of drive piston sections, and (1) Ultra Grip Wrench designed for quick ratcheting of piston tube adapter. All wrenches are lined with a non-damaging liner with super grip. It will not scratch or warp thin wall components.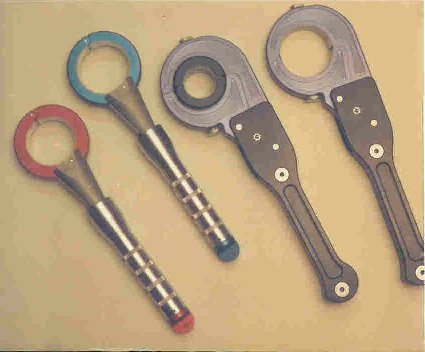 The Precision Sure Grip Wrench is designed to protect thin wall components unlike damaging strap wrenches. Provides great gripping locking means. Clamp is lined with a high coefficient of friction material that will not scratch or damage parts. (used for drive piston and index tube)


The tools feature:
Fast, precise locking mechanism
Precision positive locking with equal gripping pressure
Replaceable non-surface damaging inserts
Non-corrosive durable material
Adjustable gripping pressure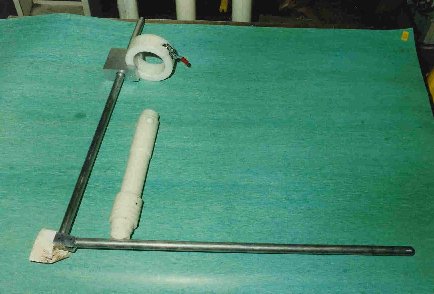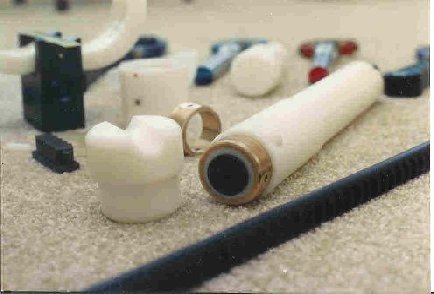 The Spring Housing Decompressor & Installation Tool consists of split clamp and ratcheting box that is quickly fastened with latch over spring housing tube outside diameter. It then receives ratcheting leverage bar used for disassembly and has an adapter that fits inside guide cap for assembly.
The Guide Plug is fastened to index tube by means of replaceable thread and is self centered thru inner tube bore by using spring loaded delrin ball berring.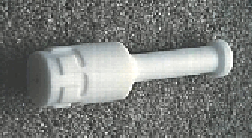 The Extracting Tool is used for installation and removal of collet piston from anulus.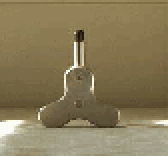 The Plug Installer is used to install spring housing plug pins at assembly. "T" handle tool holds plug pin securely for accurate placement.

Other tools we offer (Photo's N/A) are:
The Plug Puller - is a self centering device used to pull plug pins straight without damaging components. Used for removal of spring housing plug pins. Sold individually or in sets of three. Tri-Handle Plug Puller is a single tool that will accommodate all 3 spring housing plug pins, by using a 3 sided handle. Tri-handle Plug Puller (set of 3) is used for the removal and installation of spring housing plug pins. It is a single pulling device with a 3 sided handle and is sold in sets of three.
The Index Tube Protective Guide Sleeve is installed on flange end of CRD by means of one captured delrin bolt that screws directly to flange bolt circle.
Stainless Steel Sleeve is used for compressing collet piston rings for assembly.
The Anulus Cleaner is a self centering device used to remove crud from anulus. Tool is hand operated with T-Handle.
The Ball Cage Removal Tool is a quick acting collet like tool that removes ball cage with simple insertion. It has a dual purpose slide hammer that removes cage without damage and has a built in release mechanism to remove cage from tool.
The Uncoupling Rod Removal Tool is used for quick removal of uncoupling rod by using collet action tool with screwdriver handle.
The Piston Tube Nut Removal Tool replaces our original Free Wheeler with hand operated 1/2" drive, impact mechanized socket. Kit contains: 1 dead blow hammer, 1 snap-on 1/2" drive impact tool, 1 1/2" drive stainless steel tube nut socket and 1 special 1/2" drive 3/8" allen that will simultaneously cut lockwire and detorque flange bolts with single blow of hammer.
Filter Screen Screwdriver and Cooling Orifice Screwdrivers