Our tools were designed specifically for the Nuclear Power Industry. Their size, shape and form are made to suit the nuclear worker and to provide simple and fast operation with their safety in mind. We have provided B.W.R. Plants with our complete state-of-the-art tool kit to disassemble/assemble CRD's effectively within a low dose frame, thereby reducing a 30 minute maintenance task under high radiation to 7 minutes.
Our tools are made with non-corrosive materials. The materials commonly used are 300 and 400 series stainless steels, bronzes, anodized and hardcoat anodized aircraft aluminum, delrins and nylons.

The Precision Super Grip Wrench is designed to protect thin wallcomponents unlike damaging strap wrenches. Provides great gripping locking means. Clamp is lined with a high coefficient of friction material that will not scratch or damage parts. (used for drive piston and index tube)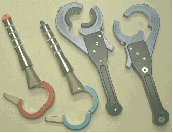 The Ultra Grip Wrench is designed for ultra quick ratcheting of drive piston sections and piston tube.